Battery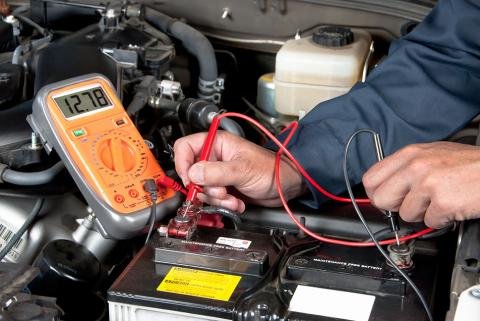 Your battery stores and distributes electrical power to the various needed locations throughout your vehicle. It is filled with a reactive chemical and lead plates, making it a very heavy item. Most are located under the hood with the engine, but automakers today are changing locations to get this heavy item as low in the vehicle as possible. As such, some are located in the trunk, under the rear seat, or even below the trunk floor.
The battery powers your computers, lighting, instrumentation, transmission shifting, engine sensors, even power steering on newer vehicles. A well-functioning battery is critical to allowing the other systems in your vehicle to operate properly.
Keeping your battery terminals and hold down clean is also very important. In many applications the Engine Control Unit is mounted within inches of the battery.
Avoid the possibility of explosion
Batteries are a dangerous part to work with, as they have a high amperage charge when operating correctly. They also can emit small quantities of an explosive gas, so handling a battery in any situation is best left to professionals who know the danger and take care to avoid the possibility of explosion.
We at Motley Automotive want to be your first and only choice for auto and truck maintenance and repair services. Our friendly staff and professional technicians are here to do everything possible to meet and exceed your car service expectations! We know you must trust your car or truck to get you and your family from place to place safely, and we want you to know that we'll treat your vehicle with the same care as if it were our own.
Using only the highest quality replacement parts, we take pride in our work because we know our reputation is critical to our success. Please let us know how we're doing! Feel free to call or stop by at any time and let us know how you feel about the services we've done for you. Even though you may first find us as a new customer, we hope you'll drive away satisfied and happy to refer us to your friends!
At Motley Automotive, your complete automotive care center in Azle, TX we install only quality replacement parts. Give us a call and let us help keep you safely and economically on the road. We serve Azle and the surrounding areas.